Dog's Colorful Day
Written by Emma Dodd
Illustrated by Emma Dodd
Reviewed by Josemi C. (age 7)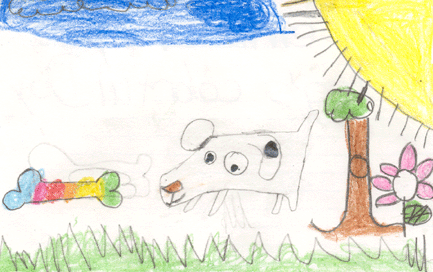 The book is about a white dog. When the dog went out side, "Splosh"! a woman drops ice cream on his ear. A little boy hugs the dog with chocolate in his hand and the dog get a chocolate spot. The dog gets a lot more spots that are different colors. He gets ten spots. The main character in the story is the dog.
My best part of the book is when the dog has lots of spots because the colors were beautiful. The dog had a colorful day. Have a nice day dog! The story reminds me of when I learned to count. The book makes me happy. The illustrations in the book were colorful also.
I recommend this book to my teacher Ms. Marcya because she reads a lot to the children in the Spaghetti Book Club.
I think kids that like pets would like this book because it is a dog book.