Comander Toad and the Space Pirates
Written by Jane Yolen
Illustrated by Bruce Degen
Reviewed by Steven W. (age 8)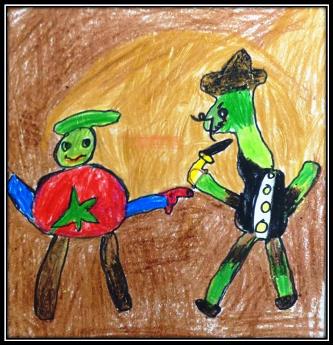 Dear Reader,
Do you like space pirates and slime creatures? Then you should try Commander Toad and the Space Pirates.
Commander Toad has a space ship called Star Warts. Suddenly they were being taken by pirates! The pirates make them do silly things, and they mess up the whole ship. But Doc Peeper is hiding and he has a plan. He rescues the crew and they capture the pirates! But the pirates have a secret, too!
I think Commander Toad and the Space Pirates is an exciting and daring book. For example, in the book the space pirates take over Commander Toad's ship. It even shows the space pirates charging at Commander Toad and his crew in the pictures.
Another reason that this story is so daring is when Toad's nose hits the floor of his ship, he does not cry. I think it was really brave of Toad not to cry when he hit his nose.
So how about you try reading Commander Toad and the Space Pirates. I bet you'll like it!
Happy Reading, Steven