A Small Christmas
Written by Wong Herbert Yee
Illustrated by Wong Herbert Yee
Reviewed by Kostas (age 7)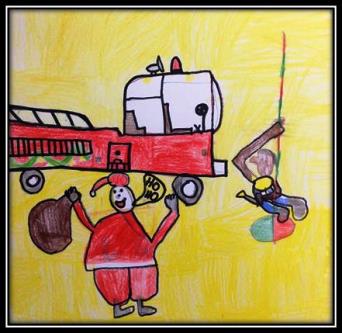 Dear Reader,
Do you think you would like to read A Small Christmas? This story is about a firefighter who turns into Santa!
This book is about Fireman Small on Christmas Eve. He was asleep in the firehouse when he heard a CRASH! He found Santa Clause in a box of coal! He is dirty so Fireman Small washes his red suit and it shrinks! Santa is asleep so Fireman Small puts on the suit and delivers the rest of the presents. Then he went home to bed, but he had a surprise in the morning!
I think A Small Christmas is a book about caring. I feel excited because the fireman helped Santa and then got Santa Claus's job! I think that the fireman and Santa are friends because the fireman delivered all the presents for Santa because Santa was so tired. He is a helpful friend who helps decorate the town for Christmas.
Another reason I think the fireman is so friendly is because he let Santa Claus sleep in his bed.
These are the reasons I think the fireman is friendly and that this book is about caring. I hope you will agree with me that A Small Christmas is an exciting book about a caring fireman.
From,
Kostas