I Survived The Japanese Tsunami
Written by Lauren Tarshis
Reviewed by Caden V. (age 10)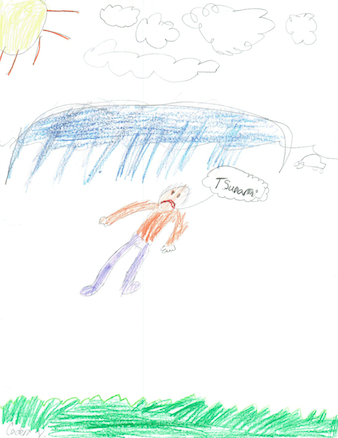 If you have ever had a life threatening situation you should read "I Survived the Japanese Tsunami" by Lauren Tarshis. The book takes place on March 11, 2011 in Shogahama, Japan. This book is about a boy named Ben, his mom, brother Harry, and their grandpa Ojisan. This book was full of action and sadness, but yet happiness, also. The book is great!
I would love to tell my favorite part of the book, but that is giving it away. After the death of Ben's father, Ben, Harry, and his Mom visit his dad's hometown in Japan. Furthermore, there is a problem. I like a book that solves a problem. A small earthquake can cause disaster if you are on an island surrounded by water. A minor earthquake strikes, which causes a huge tsunami. That is another reason that I liked this book, because I learned so many new things. Ben couldn't understand a word the Japanese people were saying except for "Tsunami." Ben is separated from his family by the huge wave. Will he ever see them again?
I would recommend this book to readers who love action and can never put a book down because there are a lot of feelings throughout the story. If you ever have a chance to read a book, I would suggest this one. If you read it you will love "I Survived the Japanese Tsunami."