George Washington's Socks
Written by Elivera Woodruff
Reviewed by Andrew G. (age 9)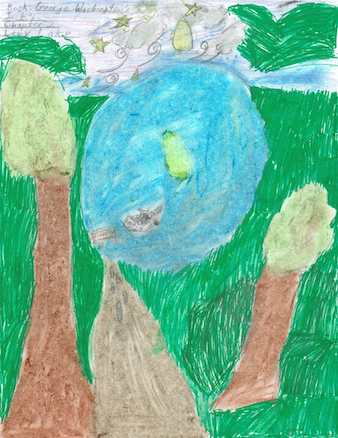 Have you always wanted to time travel? If you read this book you will feel like you have. This book is called "George Washington's Socks." Go back in time on a mysterious boat with Katie, Matt, Hooter, Q, and Tony. Find out more when you read the book.
My favorite part was when Matt, the leader, makes a friend in the time of the Revolutionary War. When I first came to school I made friends for life. My other favorite part is when Matt puts his peas in the sugar bowl. He was being clever, but you will have to read the book to figure out why. I think that I would like to time travel, and I hope that I would be clever the way that Matt is. I think this book makes learning about the Revolutionary War fun in a new way.
I recommend this book anyone who likes adventure and mystery. I loved this book and I hope you like it too! Who wouldn't love a book about time travel? Where would you want to go?