Who Stole Uncle Sam?
Written by Martha Freeman
Reviewed by Laila R. (age 9)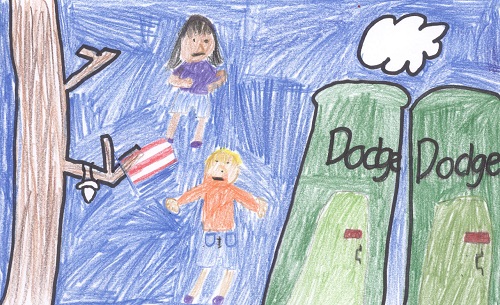 Do you like mysteries? If you do this is a good series for you. This book is mostly about Alex's baseball coach getting stolen. Who Stole Uncle Sam was a really big surprise. To my surprise I didn't even suspect this person. At first Alex didn't want to investigate but Yasmeen made him. To figure out who stole him read this baffling brain-popping book.
This book was remarkable. It was remarkable because it was a really long book that has 250 pages, but I learned that not everything is not what it seems to be. This book reminds me of when I didn't know where my cousin was because I wanted to ride my electric scooter with him and he snuck out and was riding on it. In the story Alex's coach is missing and they can't find him. It was like another book also by Martha Freeman. The name of it is Who is Stealing the 12 days of Christmas. They're like each other because in both books something is stolen. This book was funny. My favorite part of the book was when Alex was cleaning Luau's litter pan and Luau jumped in it for no reason.
I recommend this book to kids that like funny mystery books. It's funny because when Alex found out that a clue was really a red herring Bub ( Yasmeen and Alex's friend) dropped trail mix on the clue. I think that's going to make you laugh for sure. This book would be good for grades 3rd – 4th graders.