Sisters Grimm: The Council of Mirrors
Written by Michael Buckley
Illustrated by Peter Ferguson
Reviewed by Gillian C. (age 9)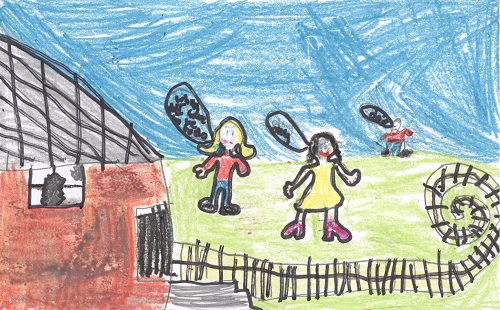 If you like wars than read this book! After Sabrina and Daphne's parents wake up from a deep sleep there is a war brewing in Ferryport Landing. Bunny Lancaster (Wicked Queen) fixes all of the mirrors and she demands a prophecy of who will defeat The First (The Master).The prophecy said that Sabrina will lead the army and Daphne will build a group of witches. Will they defeat The First or will he rule the world?
I thought this book was great. I liked this book because it was adventurous and romantic. My favorite part was when in the end Sabrina's fifteen year old daughter Allison became a fairy- princess. I liked that because I love fairy princesses. I also think I am like Sabrina and my sister is like Daphne, because I like fighting like Sabrina and my sister eats everything like Daphne. This book is the last one of the series of the Sisters Grimm. This book reminds me of the town my mom works in because Ferryport Landing is supposed to be by the Hudson River and Dobbs Ferry is by the Hudson River.
I recommend this book to kids who like adventure, fantasy, and romance because Puck and Sabrina get married (romantic). Also Sabrina and Daphne have to save their grandmother whose body was taken over by The First. I recommend this book to 7 to 12 year olds too because it is just right for this age group because it has challenging vocabulary that this age group would understand. This book has 3 pictures and 333 pages.