Diary Of A Wimpy Kid: Dog Days
Written by Jeff Kinney
Illustrated by Jeff Kinney
Reviewed by Jericho R. (age 7)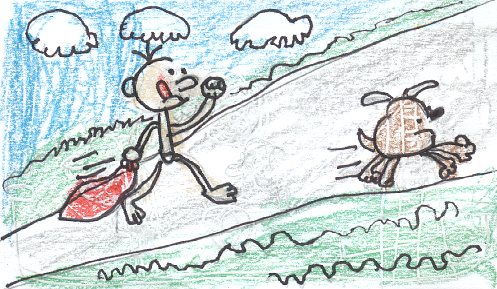 Do you like Diary of the Wimpy Kid books? Well, Greg is back! In this book, he is having the worst summer vacation. First his mom makes him go to a reading club. Then he gets a phone from his parents, but he thinks it is a horrible phone. Is this going to be the worst summer ever? You will have to read the book to find out how Greg's summer goes!
My favorite part is when Greg and Rowley have a V.I.P. lawn service. I like this part because the lawn mower instructions are in Spanish. This makes it really funny. My favorite character is Greg. He is very funny and gets into lots of silly situations. He thinks that if he eats watermelon seeds, he will grow a watermelon in his stomach. I like how the author wrote the book in dairy form.
I recommend this book to kindergarten through third grade. The book will make you laugh hard!