Magic School Bus on the Ocean Floor
Written by Joanna Cole
Reviewed by Brianna M. (age 9)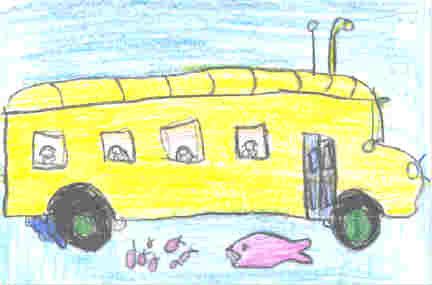 Did you like to go on field trips with your class? Well, if you did then come on and read The Magic School Bus on the Ocean Floor by Joanna Cole and illustrated by Bruce Dagan.
To begin with, this story was about Ms. Frizzle's class going inside of the ocean to learn about fish and sharks. There were funny parts in the book that I liked. One of the funny parts was when the life guard said funny things like "here I am saving a grandmother" because it has a funny picture. The exciting part was when Ms. Frizzle's class was going in the water. It was exciting because when they went inside the water, they got to swim with the sharks.
I enjoyed this book because it was a story about going on a field trip. I like going on field trips too. My favorite was when I got to go to an art museum. I also enjoyed this book because it has cool pictures and the pictures are surprising. The kids' faces were showing surprise when they saw the sharks, squid, and fish. My favorite part was when the kids were following the shark and yelling at it to come back because they wanted to see it. But what I didn't like about this story is when Arnold always gets scared and never wants to go on the field trips. He does that in all of the books in the series!
In conclusion, kids in Kindergarten through third grade should read this exciting book. You should go to your library and get it.