The Clue of the Screeching Owl
Written by Franklin Dixon
Reviewed by Danny G. (age 12)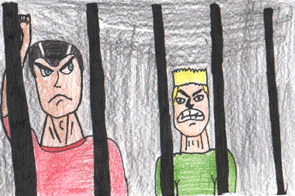 The Clue of the Screeching Owl is about Frank and Joe Hardy who are accompanied by their best friend, Chet. They are on vacation when they find that their father's friend, a retired police captain, has mysteriously disappeared. In the woods the boys find a few clues which they hope will help them solve the mystery. Together, the brothers search for the missing police captain despite Chet's mishaps in the night, the blood curdling cries, the screeching of owls, and people running wild with fear. If you want to find out what happens to the town with the screaming throughout the night and the Hardy's hot on the case, you will have to read the book!
I thought this was an exciting book with suspense and amazing pictures that help us see what is actually going on. It has details so good, they stick in your mind. I liked this book because it keeps you stuck with your nose in the book, wanting to know what's going to happen next! I felt so nervous, I just wanted to jump out of my seat! But that's what kept me reading. I kept wondering, "What is going to happen next?" This mystery book reminds me of Christmastime. At Christmastime I use clues like the size of the boxes and store logos on bags to help me figure out what I am going to get. In this mystery book there were clues that helped me figure out what had really happened in the story.
I recommend this book because people who like action-packed, suspenseful mystery books will love this one. There are several parts in the story that might catch the interest of a mystery reader. I think that the witch might catch someone's interest, or the Hardy's sense of humor. Maybe even the setting of Black Hollow, or how the legendary witch stalks the night with her bloodcurdling cries would pull the reader into the book. Anyone with a good taste for mystery books I'm sure will enjoy The Clue of the Screeching Owl.