Fake Mustache
Written by Tom Angleberger
Reviewed by Julie M. (age 9)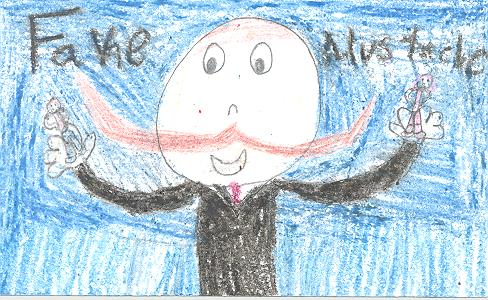 "Is that the Heidelberg Handlebar Number Seven?" Come join Lenny, Jodie, and Casper in Fake Mustache by Tom Angleberger illustrated by Jen Wang.
To start with, Lenny and Casper were BFFs (best friends forever!) but that all changed when Casper bought the Heidelberg Handlebar Number Seven and became president Fako and started to rob banks. Lenny tried to tell everyone that Fako did it but no one belived Lenny... not even his parents! Jodie, aka the movie star and the girl Lenny has a crush on tries to help stop Fako from brainwashing everybody and by the help of teamwork, they just might accomplish their goal!
This book made me wonder about why Casper treated Lenny so poorly. The character that totally changed was Fako. In the beginning, he was so nice but then he started to rob banks and turned on Lenny. And last, I liked this book because, it had a lot of twists and turns throughout the book and you get so surprised of what happens.
In conclusion, I would recommend this book for kids ages 8 and up. If you like books with romance and action, go to your local library and find Fake Mustache!