Andrew Luck
Written by Josh Gregory
Illustrated by Robbins Photography
Reviewed by Javon P. (age 10)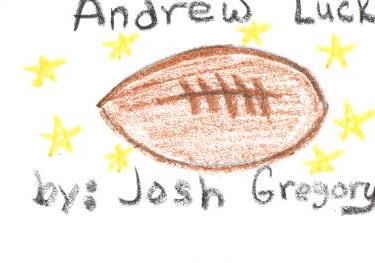 This is a biography about a football player named Andrew Luck. He plays for the Indianapolis Colts. He is the quarterback. Andrew has had the same number (12) on his jersey since he was in high school. His first professional win was against the Vikings. Andrew comes from a football family. He shares his love of football with his father. Andrew ha a bring future at Indianapolis. He has proven to be better than anyone could of imagined.
I like this book. It helped me learn more about football and my favorite player Andrew Luck. In my opinion he is the best quarterback in the NFL because he can throw really long passes. His story inspires me to play my best.
I think anyone interested in football should pick up this book. It is fun to read and any third or fourth grader would love to read it. The pictures are awesome and the glossary in the back helped me out with hard words. Read the biography about Andrew Luck and you will learn more about football than you could imagine.