Calvin Can't Fly: The Story of a Bookworm Birdie
Written by Jennifer Berne
Illustrated by Keith Bendis
Reviewed by student in Ms. Deering's 1st Grade Class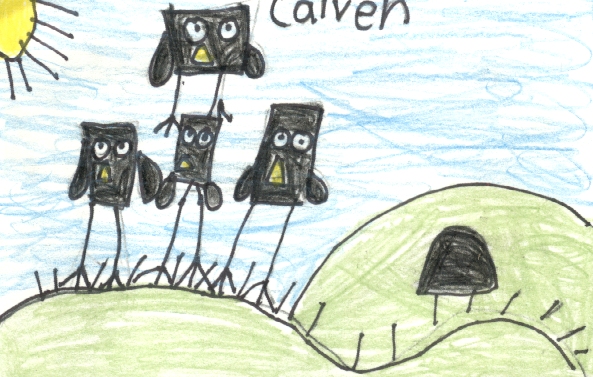 This book is about a starling bird named Calvin who likes to read books. He reads about planets circling the sun and what makes the wind blow. He couldn't fly because he was too busy reading the whole summer in the library while his brothers, sisters and cousins learned to fly by taking lessons with Mr. Winsted! Once fall comes they all have to migrate for the winter and Calvin still can't fly. Read the book to find out if he learns to fly and find out the rest.
We liked the book because we like to read books like Calvin. We also liked that Calvin helps his brothers, sisters and cousins. We connected with the story because we like to read just like Calvin does. We liked the end because Calvin is a very smart bird and he helped his brothers, sisters and cousins solve their problem. We liked the part when they celebrated Calvin because we like celebrating that he helped out his family. We thought it was inspiring because it tells you how you can help other people do things. This book reminds us of the book "A Frog Thing" because he kept on trying and trying and trying just like Calvin was waiting and waiting and waiting.
We recommend this book to Kindergarteners and First Graders because we think it is a funny story and they would enjoy it. It's a good book and it teaches people that you have to do what you have to do before you do what you want to do. You shouldn't do something else when you are supposed to do something that's important.