I Spy Fly Guy
Written by Tedd Arnold
Illustrated by Tedd Arnold
Reviewed by R.C. (age 8)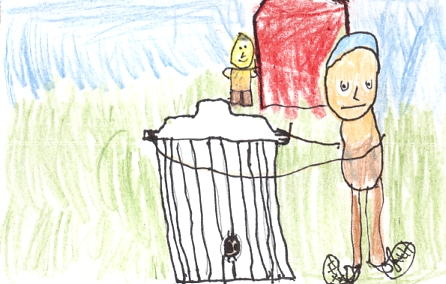 In the book, I Spy, Fly Guy, a fly named Fly Guy gets stuck in a garbage can playing hide and go-seek. He ends up in a garbage truck. "Follow that truck!" said Buzz. Buzz is Fly Guy's owner and friend. Fly Guy gets dropped off in the dump and Buzz and his dad look for him, but they can't find him. What will they do? Will they find Fly Guy? Read the book to find out more.
I like this book because it is funny. I think the illustrations are very detailed. The illustrator, Tedd Arnold, is really good at making the pictures look like they are in 3D. My favorite part of the story is when Fly Guy gets lost. It is funny because there are a lot of flies at the dump who can all say, "Buzz". Fly Guy is one book in a series. Make sure to check out the rest of the books too.
I recommend this book to children in K-3. I also recommend this book to people who like funny books. The author writes the book in a kid like way. The lesson in the book is not to hide in a garbage can if you're a fly.