Into the Wild
Written by Erin Hunter
Reviewed by J.G. (age 8)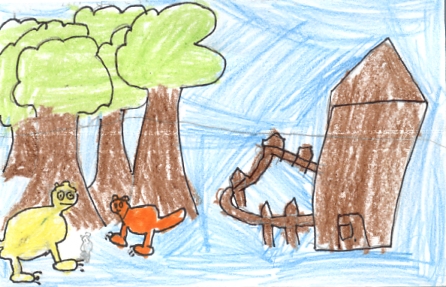 An ordinary house cat gets bored with his own life. He decides to go into the wild. He joins the Thunder Clan. The ordinary house cat starts to train to be part of the Thunder Clan. He becomes an apprentice. There are still some cats in the clan that don't trust him. Read this book to see if the cat can ever become a warrior.
Into the Wild is the first book in a six book series. This book was unique because there are four different teams and each one of them is independent. The warriors must prepare for the harsh winter.
**** Jack, it is interesting that this is the first book in a series. Can you say how this book is like the others or compare them if you have read the others? Also, your opinion only has two parts. "The warriors must prepare for the harsh winter is a fact, not an opinion. Please add one more part. Thank you!
I recommend this book because this book because it was exciting. There were many big events that keep the reader reading. I would recommend this book to people who like non stop action. There are all kinds of moments that are funny, sad and adventurous. This book is for third grade and up.