Deep and Dark and Dangerous
Written by Mary Downing Hahn
Reviewed by T.P. (age 8)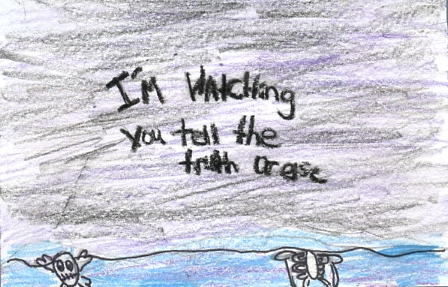 Thirteen year old Ali is searching through some old boxes that her mom picked up from her grandmother who passed on some years ago. When she finds an old photograph, she's left in suspense because in the photograph there's her mom, Claire, her Aunt Dulcie and someone else who was ripped out of the photograph. Meanwhile, she is spending her time in Gull Cottage trying to find out who that someone is. If you want to find out who this person is, read Deep and Dark and Dangerous!
I like this book because it's very scary and suspenseful. My favorite part is when Sissy comes along because you can tell that there's a mystery waiting ahead. Even though my favorite part is when Sissy comes in to the story, she isn't my favorite character. Sissy isn't my favorite character because she's not necessarily a great person or a good influence, but she is very interesting. At the end of the book, I think Sissy changed because she really explained why she wasn't being a good person. I half like Sissy because she is the character who makes this book special.
I recommend this fiction book to people who like to get their scare on because there are some really thrilling parts in it. The author's writing style is very suspenseful and surprises you at the end. I think this book would be appropriate for most third or fourth graders. If you're looking for a book that will really blow your mind, read Deep, Dark, and Dangerous today!