The BFG
Written by Roald Dahl
Illustrated by Quentin Blake
Reviewed by S.F. (age 8)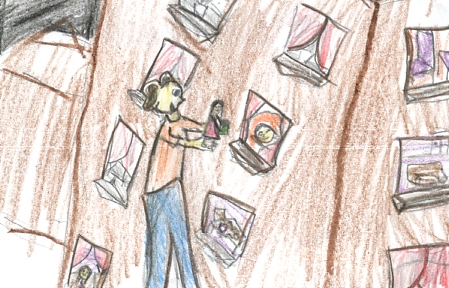 Have you ever seen a giant? Well, the B.F.G., also known as the Big Friendly Giant, is a great, funny book that takes place in an orphanage and afterward in Giant Country. One night, a little girl named Sophie, at a time she calls "the witching hour," can't fall asleep. She quietly tiptoes out of bed to go close the window, trying hard not to break the silence. When she gets to the window, she sees an overgrown creature, known as the B.F.G., staring STRAIGHT at her. They become great friends and overcome tricky challenges to, pretty much, save the world. One of those challenges is to fight and get revenge on Fleshlumpeater, Bonecruncher, Manhugger, Childchewer, Meatdripper, Gizzardgulper, Maidmasher, Bloodbottler, and Butcherboy. And I know you have no idea who those overgrown people are, so read this fun-filled book to find out!
I like this book because it is one of those books where you can feel a bunch of different emotions. It is one of my favorite books because it is really unique and makes you want to jump up and down when you get to the juicy parts! My favorite part of the book is when the B.F.G. and Sophie mix up some dreams and make one big dream to give to the Queen of England. Lots of great and exciting things happen then. I really hope I get readers interested so please read this book!
I recommend this book to people who like funny, happy, sad and suspenseful fiction books. It has great surprises and teaches useful lessons. The lesson in this book is if you see something going wrong, you should really try to stop it. It also has an interesting setting because in the book, the other big giants are going off to England to eat some children. Sophie gets hysterically upset and forces her brain to come up with a way to stop it. She finally comes up with one and hopes she will succeed. You will like this book if you like problem solving. If you like all of the above, this book is perfect for you!