From The Mixed-Up Files of Mrs. Basil E. Frankweiler
Written by E.L. Konigsburg
Reviewed by E.T. (age 8)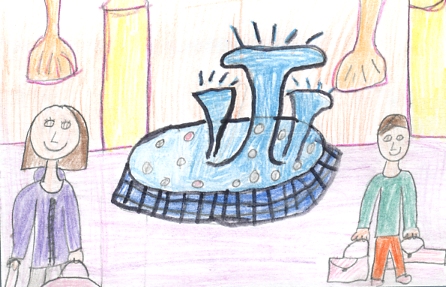 "Tip-toe, tip-toe, SHHH!!!" One day, Claudia Kincaid picks one of three brothers and picks Jamie Kincaid to run away with. I think Claudia and Jamie are very humorous. She picked Jamie because he is the richest. Why? Because he cheats in poker. He cheats in poker to get money when he's not supposed to gamble! They need a lot of money because they are running away (well taking a train) to the Metropolitan Museum of Art! Each night they take a bath in the money fountain and "borrow" some money! (shhhh, don't tell anyone!) Every night they stand on the bathroom toilets in stalls when security comes. But when it's time for bed they secretly change in to their PJ's and sleep in a bed that belonged to Marie Antoinette! Would you like to find out what happens next? Then go ahead, read the book!
I liked this book because it has a lot of detail and is very surprising and shocking. My favorite part was when Claudia and Jamie find the file of Angel. Jamie and Claudia's feelings were excited and happy when they found the file. This book was interesting because it gave descriptive words for example, fountain and secret. I think this book is kind of like a puzzle but the author gives the reader hints along the way. Read carefully!
I'd recommend this book for people who like mysteries and fun and shocking endings. I'd also recommend this book for grades 3rd-5th. Claudia and Jamie are brave, smart, and great at hiding. This author, E.L. Kongingsburg, is a creative woman. This book received a Newbery Medal award. She is a great author.