Rainbow Magic: Belle the Birthday Fairy
Written by Daisy Meadows
Illustrated by Daisy Meadows
Reviewed by Ann Marie B. (age 10)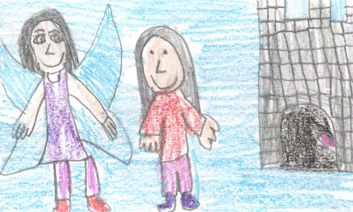 Do you like stories about mysteries and adventure? This story is about a fairy named Belle who asks two friends name Kristy and Rachel for help because her birthday charms were stolen by a goblin name Jack Frost . Kristy was going to celebrate her mom ' s birthday . She wanted her mom's birthday to be perfect . Belle , Kristy, and Rachel went to places where they can find the charms that Jack Frost ' s goblins hide the charms. How did they get there? Read this book to find out.
My favorite part is when Belle , Kristy , and Rachel went to Fairyland because they were searching there to see if there is Belle's birthday charms . They went to the human world and fairyland to search for charms . They tricked the goblin to get the charms. My favorite character was Belle because she is a fairy. She has birthday magic and makes birthday magic come true. Belle the Birthday Fairy is a good book because they had a lot of adventures. They also had a great time searching for the birthday charms.
You should read this book if you like fairies and magic. Brigitt would like to read about it because it is fun and mysterious. You should also read this book if you like fairytales.