When Blue Met Egg
Written by Lynd Ward
Reviewed by Keira W. (age 7)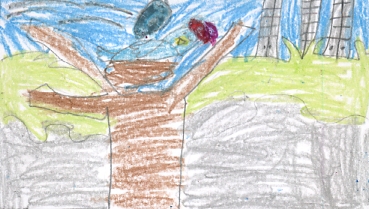 "Boink!" "An egg landed in my nest." This book is about a bird sleeping in her nest on a cold winter morning. An egg lands in her nest. She asks the egg, "how did you get here? Do you know where your mother is?" So they went to look for the egg's mother. First they went to the boathouse, but she was not there. Then they checked the terrace fountain. If you want know more places Blue and egg looked for egg's mother, then you should read this book.
My favorite part was when the egg landed in Blue's nest because it landed in blues nest when kids were doing a snow ball fight nearby. This book reminds me of going to visit my mom's side of the family because they live in New Jersey. I loved the illustrations in the book because the illustrator used great details and bright colors to tell the story through the pictures.
I recommend this book to kids who love to play outside or like to do outdoor activities. Kids that like funny books will love to read this story.