Don't Eat the Teacher
Written by Nick Ward
Reviewed by Mallory M. (age 7)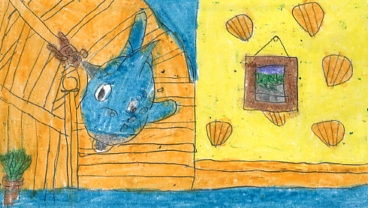 "Crunch, crunch, crunch! Don't eat the teacher!" Sammy is at home and rushes down the stairs. It was the first day of school! In this book Sammy gets ready for his first day of school! One bad thing is that Sammy has a habit of biting things. When the class was at the playground they played tag. Sammy got tagged and he tried to eat the other kids! To find out if Sammy eats his teacher you will have to read this book.
This story reminds me of the time when I went to school and it was the first day. I was a little nervous to meet all my new classmates and my new teacher. This is a book to love! I love it because it has fantastic pictures and words. My favorite part was when Sammy eats a fish and the fish asks, "am I still it?" It was pretty funny!
I recommend this book to kinder, 1st and 2nd graders. If you like to read funny stories about school, you will love this book!