Discover Snakes
Written by Flowerpot Press
Reviewed by Zachary M. (age 7)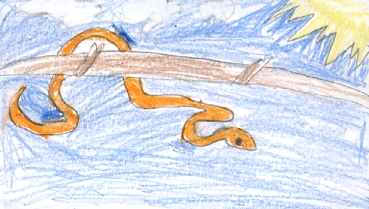 Do you like snakes? I do and I bet you will too after you read this book. In this book you will learn about poisonous snakes and harmless snakes. Harmless snakes do not hurt or bother people. Some snakes are poisonous and they may bite you.
I love this book because all of the snakes in the book have something that they could attack or defend with. My favorite part of the book was when it talked about the vipers. The Puff Adder, one type of viper, has cool horns on its head and is less than three feet in length. The snakes reminded me of when I was at my Boy Scout meeting and I got to hold a corn snake. I have learned so much about different snakes from reading this book.
I recommend this book to people who like nature. If you like to learn about animals you will love this book!