I Wanna Iguana
Written by Karen Orloff
Illustrated by David Catrow
Reviewed by Kevin O. (age 8)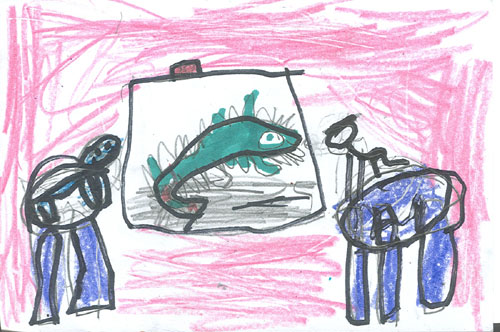 Do you like iguanas? Then you should read I Wanna Iguana. It's about a boy that has a dog and he wants his mom to buy him an iguana. Read this book to find out if he gets an iguana.
I like the way this story is told through the creative use of letter writing between Alex and his mom. This book reminds me of the time when I was begging my mom to buy me an Iphone and she said "no!"
I think children aged seven to ten would like reading this book because it is entertaining. It has silly pictures and it's a funny story. I think my brother would like this book because he likes to read books that are entertaining. The part that would interest a reader is when Alex says that he could teach the iguana tricks. Find out why Alex thinks an iguana would be more fun to play with than his little brother.