Leprechauns Don't Play Basketball
Written by Debbie and Marcia Thorton Jones Dadey
Illustrated by John Steven Gurney
Reviewed by Von S. (age 8)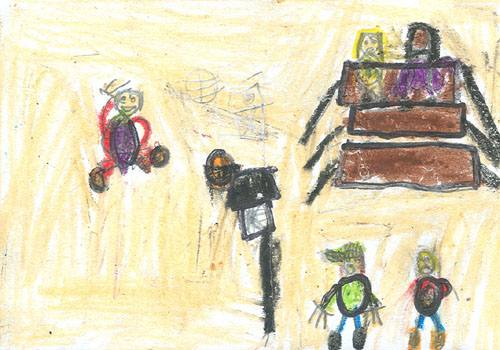 Have you ever wondered if your basketball coach is a leprechaun? Well these kids have. This book is about four friends agreeing and disagreeing that Mr.O' Grady is a leprechaun and there is something wrong with their teacher ever since Mr.O' Grady got here. Is she scared or allergic to leprechauns? The gang needs thorough answers.
I thought the story, characters and the pictures were great especially the characters. Eddie, Melody ,Howie and Liza's character traits were wonderful .This reminds me of one time when my friend thought someone was a thief but I thought that was nonsense. This book reminds me of another book in the series when the gang thought their teacher was a vampire. Like some of the kids in this group some kids in real life might believe in leprechauns.
I think other kids should read this book because it is a great book with superb characters and settings. If you like weird fiction books this is a must read for you. The whole idea of the story is great. It had me really thinking. This book has 71 pages. The genre is fiction. So if you like books that make you think go buy this book.