the Incredible Journey
Written by Sheila Burnford
Illustrated by Paul Perreault
Reviewed by Kaitlyn F. (age 11)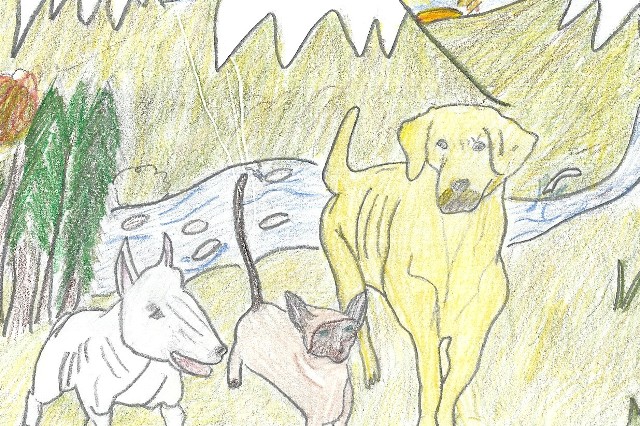 The novel The Incredible Journey is written by Sheila Burnford and is illustrated by Paul Perreault. This book is about three animals, Luath the young Lab, Tao the Siamese cat, and Boger the old bull terrier that live in the woods in the northwest of Ontario. They were separated from their family about four hundred kilometers away. Luath then decides to get the gang together and set off across the Canadian wilderness to find their long lost family. On their journey, they face many trials such as bears, rivers, and other wild animals. This book shows you to never give up and always stick together and fight for your rights and family.
This book is my FAVORITE book! It's awesome!
My favorite character is Luath. I find him a very determined and somewhat troubled; I wish I was like him for he is very brave. He also is very clever and can think quickly! Let me get this out there though, this book is sadly not a series so enjoy this one chance you have to read this once in a life time amazing book by Sheila Burnford, of course she has other books but not about the 'Trio'. When I read this book, I felt very different about the wilderness. I used to always want to live in the wilderness but this book explains all about being in the wilderness. I think it might do the same for you.
I recommend this book because it changes the way you yourself think and view things. I find this book very realistic and what it's like to live in the wilderness. I suggest that people six to twenty would enjoy this book greatly. If you LOVE animal adventure books like me, you'll adore this book.