Way Down Deep
Written by Patricia Demuth
Reviewed by Gavin L. (age 9)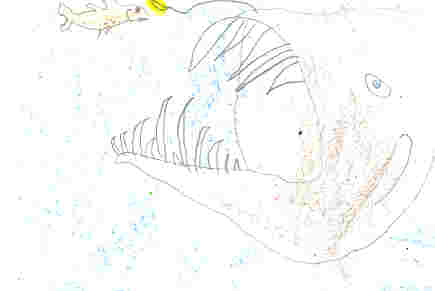 Have you ever seen a creepy fish before? If so, or if you wish you could, you should read Way Down Deep by Patricia Demuth.
Way Down Deep is about sea creatures and things like robots, submarines, and divers. There are tons of sea creatures, but down in trenches are scary and ugly things with giant teeth like the big scary angler and ugly giant squids. There are even scary vampire squids and even more for you to learn about in this book! One of the real pictures in this book shows sperm whales and the giant squid fighting, but it does not show who wins.
My favorite part is when they have pictures of all the scary and ugly fish on one page. There is lot of fish to learn about and some people have never seen before. Me and my family like going fishing and catch big, crazy, and weird looking fish. This book would be good to take along on our fishing trips.
This book is perfect for all ages because it is fun to read and look at the cool pictures. You can also read this book with your family!