Tuesday's at the Castle
Written by Jessica Day George
Reviewed by Olivia S. (age 9)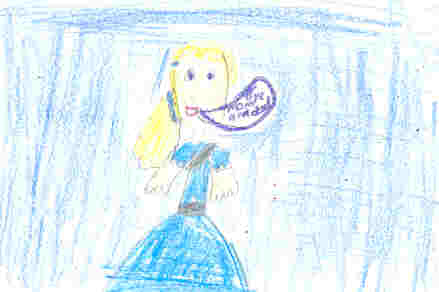 Are you a prince or a princess? Do you live in a castle that's alive? Well Cecelia is and does. Her story is told in Tuesday's at the Castle by Jessica Day George. You should really read it!
To begin with, this story is about a royal family that has the parents and an older brother that were assassinated… or were they? The story involves weeks and weeks of the kids trying to figure out if their older brother and their parents were assassinated or not. At the end they finally figure it out, but I'm no spoiler! My favorite part is when Cecelia, Delilah (Lilah) and Rolph ruin the council's clothes. They cut the seams and dip the council's clothes in black ink. Some really funny things happen because of that.
In addition, I enjoyed this story because I like reading mysteries. (They are my second favorite genre of book.) The book is great because the kids have to do lots of things to figure out if their parents are alive or not. You never know what the castle will do next. In this case, the castle helps Cecelia and her siblings… most of the time. Trust me, the kids have to do some pretty funny acts. For example, they climb through secret tunnels and those tunnels are very small.
In conclusion, this book is great for girls ages 9-14. It would be a great for summer reading. You should find it at your library today.