Smile
Written by Raina Telgemeier
Illustrated by Stephanie Yue
Reviewed by Noelle M. (age 8)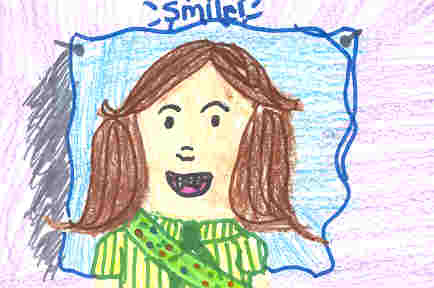 "Smile! Very good, Raina!" Meet the fun character Raina in Smile, by Raina Telgemeier.
To begin with, Raina and some girls from Girl Scouts were coming back from a scouts meeting. They decided to race to the front porch. Raina grabbed for Kelli's coat, but she tripped and smashed her face on the ground. She lost one tooth, and two teeth got pushed up into her gums. Raina's Mom called the dentist and he said that Raina was going to have to get braces.
In addition, my favorite part was when Raina was looking in the bathroom mirror. She said to her mom, "Hey Mom, I look like I am six again! HA!" Her mom thought to herself, she must be in shock… That is just the beginning if this hilarious story, though! There is lots of comedy in this book. I also liked when she had to get all of the different types of equipment on her teeth. I remember thinking that I was glad I didn't have to do what Raina had to do! Finally, I enjoyed this book because it was a true story of when the author was young. When I read the back of the book, it said that this was what happened to her in real life. This made it even more interesting than I first thought it would be.
In conclusion, Smile is a great feel good book for all ages. This book will leave you smiling!