The phantom of the post office
Written by Kate Klise
Reviewed by Olivia O. (age 9)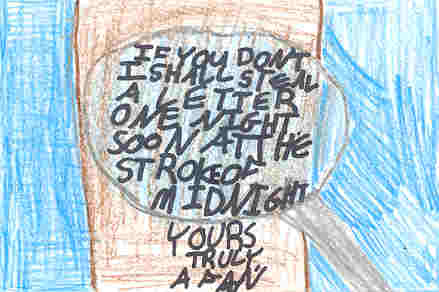 "Who likes ghosts?" "Me!" "Phantoms?" "Umm...not so sure." If you like both, or even just one, you should read The Phantom of the Post Office by Kate Klise.
To begin with, Seymour Hope, Ignatius B. Grumply, and Olive C. Spence are unhappy because their local post office is about to get town down with the wrecking ball. Mail is starting to get replaced by VEXT-MAIL which is a new invention. Then, they start to get strange and creepy letters, FAN letters. All of the letters are signed from "A Fan." When the FAN sends a letter he takes the letter "F" away from the alphabet and causes the written letters to become harder to read. But the VEXT-Mail is part of the problem too because when they use it, it messes up words they say.
In addition, my favorite part of the story is when Wy Fye, who is Seymour's newest friend, loses a bet that her uncle made with her to be without her phone for a month. She loses the bet by just about a minute because she was inside of the post office when the wrecking ball hit the door so she had to use her phone! I liked it because it's very smart but if it considers losing a bet or death I would do very same thing. I also liked this book because it's funny. The funniest part was when the characters all get mad at each other and fight! Finally, this book was fun to read because the names of the characters all had hidden messages. It was so cool to figure out what each one meant!
In conclusion, this story is good for ages eight to eleven. A parent might be good to read it to you because of the no "F" letter in the letters which can make it hard to read!