Turtle In Paradise
Written by Jennifer Holm
Reviewed by Ashley S. (age 9)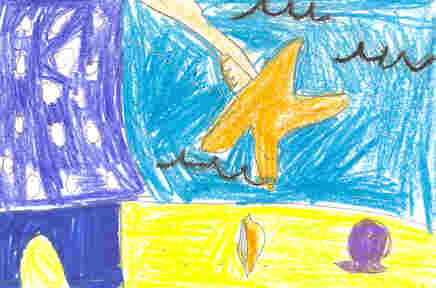 Do you like mysteries? Well you will enjoy Turtle who solves a mystery in Turtle in Paradise by Jennifer L. Holm.
To begin with, this story is about a girl who needs to go to Key West to live with her Aunt Minnie and cousins Beans, Kermit, and Buddy because she can't stay with her mom. Unfortunately her mom works for a mean rich lady as a housekeeper. The mean lady might not want kids in her house. She won't even let the mom talk to Turtle on the Phone! While Turtle is with Aunt Minnie, she is always trying to fit in because she's surrounded by boys. At times, she tries hanging out with the "Diaper Gang" who are a bunch of boy babysitters who live on her block. But they don't like having girls around, but they have to let her because Aunt Minnie says. Buddy and Kermit end up being nice to her.
In addition, I like this book because it makes you think, a lot. You have to pay close attention to what you are reading or you won't get what's going on. My favorite part is when Aunt Minnie got a scorpion on her back. She runs around in circles screaming, "GET IT OFF ME! GET IT OFF ME!" Finally her uncle gets the scorpion off and they all run to get the doctor because the scorpion stung her. I like this part because it is really funny and you wouldn't expect it to happen.
In conclusion, I think this is for kids nine and up who can really think. So, what are you waiting for, go and buy it or check it out at your public library.