The Box Jellyfish
Written by Judith S. George
Reviewed by Gavin L. (age 9)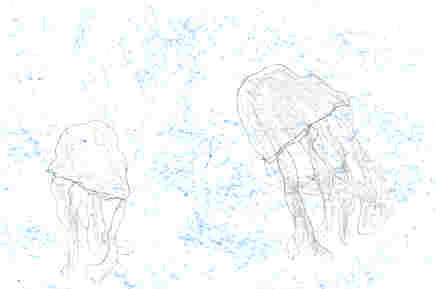 Have you ever seen a jellyfish? If you have or would like to learn more about them, you should read The Box Jellyfish by Colleen Sexton.
First of all, this book is about a girl who survived a box jellyfish attack. Most people die from an attack or drown by it. She is still healing from her attack. She got some of her memory lost. The book tells information about box jellyfish and different species like the sea wasp. Most times people get stuck in there tentacles and the jellyfish can kill them, so watch out for those jellyfish!
In addition, sea wasps are also very dangerous. A little bit of poison from them can kill 60 full grown adults or more! I have seen jellyfish but not the box jellyfish. Not all jellyfish have tentacles. My favorite part of this book is when you see a man swimming with a box jellyfish. I also like that there are lots of facts about the box jellyfish. I learned a lot from this author!
In conclusion, this is a good book for all kids ages 6-10 who are interested in sea life. It is an interesting book, trust me!