Smile
Written by Raina Telgemeier
Illustrated by Stephanie Yue
Reviewed by Jennifer R. (age 9)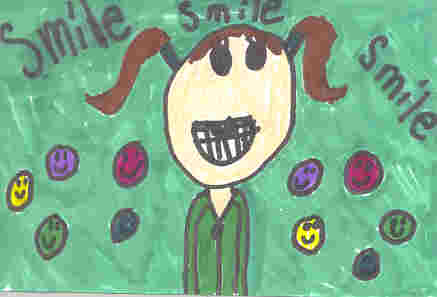 "MY TOOTH!!" Do you want to know if Raina will ever get her teeth fixed? If so read Smile by Raina Telgemeier.
To begin with, Raina's night started off as a normal night but turns into a four and a half year tooth trouble after she falls and messes up her teeth. But Dr. Golden her dentist has a plan to fix it. So she goes and gets braces, then to a retainer with fake teeth, and on to headgear, and finally back to braces. She even has to get a cast at the begining of the story too. So many problems for Raina!
In addition, she has to get shots that are painful not to mention all of the things on her teeth that don't feel good either. If I were her, I would think it would feel like forever, wouldn't you? Well, the bright side of the bad things that happen is that Raina gets friends that are nicer to her. She also gets her ears pierced like she really wants and lots of new earrings. I liked this part because I love earrings too! This book was so much fun to read because it felt like a regular chapter book, but instead it was like a comic book with many pictures.
In conclusion, read Smile and see if Raina gets her teeth fixed for good. This book is perfect girls and boys of all ages. So go to your local library and check it out today!