Diary of a Wimpy Kid
Written by Jeff Kinney
Illustrated by Jeff Kinney
Reviewed by Sean S. (age 9)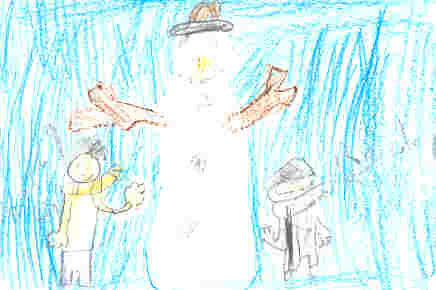 Do you like your siblings or do you hate your siblings? If you hate your siblings then you should read Diary of a Wimpy Kid By Jeff Kinney.
To begin with, this story is about a kid named Greg Hefley who does dumb things and crazy things. He hates this kid named Fregley that lives in between Greg and his best friend Rowley. It is especially annoying when Greg is trying to sneak out and tries to get to Rowley's house! One time Fregley asked Greg if he wanted to see his secret freckle which I thought was so gross!!!! Also Greg has two brothers named Manny and Rodrick. Manny is younger and Rodrick is older. When Greg was little he used to draw on the wall and he got in trouble, but when Manny drew on the walls all he gets is an "Aw!" from their mom! Also Rodrick is the bully of the bullies! He is always picking on Greg.
In addition, my favorite part is when Greg and Rowley try to get to the World Records book but there record just melts away. You'll have to read this book to find out just what I mean! Another one of my favorite parts is when is Fregely annoys the heck out of Greg. Greg just doesn't know how to handle that kid!
In conclusion, all kids ages 7-13 should be allowed to read this book! They will laugh hysterically at all of the funny parts. Check it out at your public library as soon as you can!