Turtle In Paradise
Written by Jennifer Holm
Reviewed by Noah S. (age 9)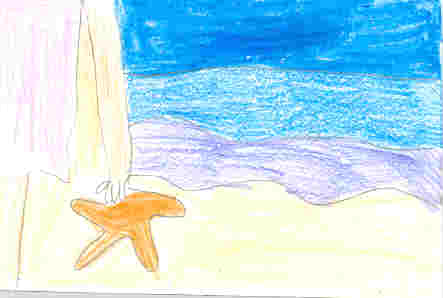 Do you like to go to the beach on hot sunny days? Or maybe get ice cream for only a coin? If you answered yes then you should read Turtle in Paradise by Jennifer L. Holm.
To begin with, this story was about a girl named Turtle that visits her cousins and her Aunt Minnie. At one point Turtle wants ice cream but she doesn't have the money so she asks for a sugar apple and when the ice cream man asks for a nickel she replies, "I put the coin in the bottom of the cup, guess I have to eat my way to the bottom." The ice cream man catches on quickly and says "You can only get away with that once." Another event is when a rotten kid stole her shoes. Turtle was not happy at all.
In addition, I enjoyed this book because it had a decent amount of funny parts and was very surprising. One very interesting part was when Turtle finds a map to lost treasure. That makes for a big adventure! A funny part is that Turtle's cousin's name is Beans and Beans's best friend's name is Pork Chop. They all have strange names!
In conclusion, this book is perfect for anyone ages eight to fifteen. This book is a Florida Sunshine State Reader for 2012-2013 and you WILL enjoy it.