Madeline
Written by Ludwig Bemelmans
Illustrated by Ludwig Bemelmans
Reviewed by Addison S. (age 8)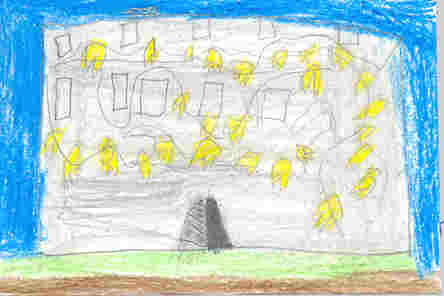 Do you always walk in straight lines? If you would like to read about kids who do, try Madeline by Ludwig Bemelmans.
To begin with, twelve girls always were in two straight lines. They broke their bread in two straight lines and they even went to bed in two straight lines. They smiled at the good and frowned at the bad in two straight lines. They left the house in two straight lines. They did it in the rain and the shine. They brushed their teeth in two straight lines.
In addition, my favorite part in this book is when the dad ran as fast as he could to get to the room of Madeline. I remember when I dashed to my room to play the xbox360. Madeline has no fear in this story. Madeline is not even scared of mice. Madeline said to the tiger at the zoo, "Pooh pooh." She even had a scar on her stomach and was in the hospital.
In conclusion, kids ages 4 and up would like to read this book. It is a nice book to read with your family or at school.