George Brown Class Clown: Trouble Magnet
Written by Duong Tran
Reviewed by Duong T. (age 8)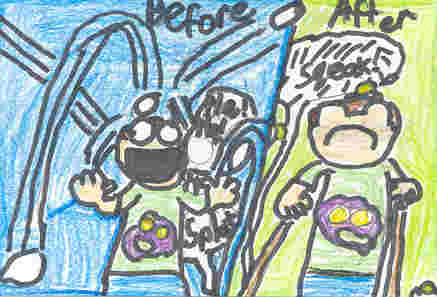 Do you remember burping really loudly? Well you might be loud, but I bet you aren't as loud as George! He burps really loud and then randomly gets out of control! Read George Brown Trouble Magnet by Nancy Krulik to find out more about him.
To begin with, this book was about a new kid named George. He signs up to help in the talent show because he wants to be helpful. But unfortunately, when he burped he got out of control! George burped about two to three times in the story and got in trouble. I remember the part when George burped and then juggled eggs! He failed and dropped the eggs. When he dropped he eggs, egg yolk splattered everywhere! He had to clean the egg yolk he splattered. That reminds me of me juggling two hard-boiled eggs. I threw them high then the eggs landed on my head!
In addition, I enjoyed this book because it reminds me of me when I got out of control. In the story George does many crazy acts like when he skateboarded and crashed into paper mache! I remember skateboarding like George, and then crashing into my brother.
In conclusion, this story is good for all ages and good for girls and boys! Check it out today at the library!