There's Something Out There
Written by P.J. Night
Reviewed by Riley W. (age 8)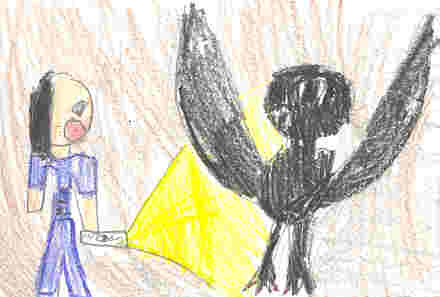 Do you like sleepovers? How about stories that make you scared? Then There's Something Out There by P.J Night is the right book for you.
To begin with, a girl named Jenna, her friend and her friend's brother go on a campout in Scared Square. But when she finds out that the marked monster, which is a ten foot tall monster that is half bird and half beast, lives there, she's not quite sure she wants to go to her campout. She thinks about trying to find the monster because she thinks it might just be a myth, but then it seems to become a lot more real!
In addition, I also liked this book because the main character is like me in some ways. FOr example we both like scary stories. We also like sleepovers and have another family member other than a mom or dad. Another reason I liked this book is because of the scary parts. It makes the book really exciting to read. Especially because you don't even know if the monster is real or not! I also liked that the girl wanted to be brave and figure out the mystery. This is what I try to be too when I am scared of something.
In conclusion, I have a lot of similarities with Jenna and maybe you will too... This book is a good fit for age 6 through 9. Enjoy this "creepover"!