How To Eat Fried Worms
Written by Thomas Rockwell
Illustrated by Emily McCully
Reviewed by Eric L. (age 8)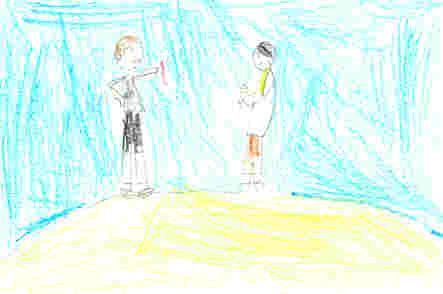 "I bet you can't eat fifteen worms in fifteen days!" Do you like worms? Well read How To Eat Fried Worms by Thomas Rockwell whether you do or don't!
To begin with, this book is about when Alan tells Billy he can't eat fifteen worms in fifteen days. Billy thinks he can and can even survive. Alan thinks he will die in the middle of the bet. So they made a bet. The most important part is when they decided on the bet...read to find out what they decided to win. The most funny part of the story is when Billy ate a lot of candy and did not eat the worm like he was supposed to.
In addition, I enjoyed this book because it reminds me of things I did when I eat candy. You probably would know what it is don't you? It reminds me when I ate too much candy and fell asleep. Billy did the same thing too. He fell asleep because he had a bad stomach ache from the worms and all the sugar. It teaches a good lesson about what you should and shouldn't eat.
In conclusion, this book is good for anyone ages six to eighteen. I hope you check it out today in a libary near you! Maybe you could read it with your friends!