Geronimo Stilton, Secret Agent
Written by Geronimo Stilton
Reviewed by Riley C. (age 8)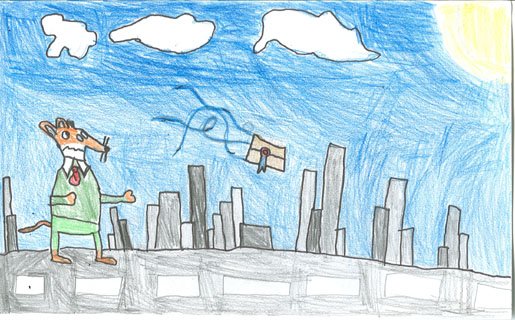 Do you like adventures? If you do, I suggest you read Geronimo Stilton, Secret Agent. Geronimo is on a mission to find a missing envelope. If the envelope falls into the wrong hands Geronimo's job will be ruined. Do you think Geronimo will get the envelope back? Well, you can find out by reading this book.
I like this book because the action is very adventurous. One adventure is about Geronimo taking the wrong bag from the airport. Then he had to search everywhere. I like how Geronimo changed when he realized that the envelope was very important. Geronimo ran to his office as fast as he could. He thought the envelope was for a silly person, but it wasn't. Geronimo asked for help but that didn't really help. He asked his sister Thea, his cousin Trap and his friend Burt Burlyrat. I would ask everyone in the world if I were Geronimo. I like the different colored words the author made. The words are big, small, wide, tall, huge, scary and colorful. He even made some words show their meaning.
I recommend this book for ages eight to thirteen. I think this book is for advanced readers because there are some tricky words. That is why I think this book is for ages eight to thirteen. I think this is a book for boys and girls because they both would like adventure books.