Geronimo Stilton, Shipwreck on the Pirate Islands
Written by Geronimo Stilton
Reviewed by Hailey F. (age 9)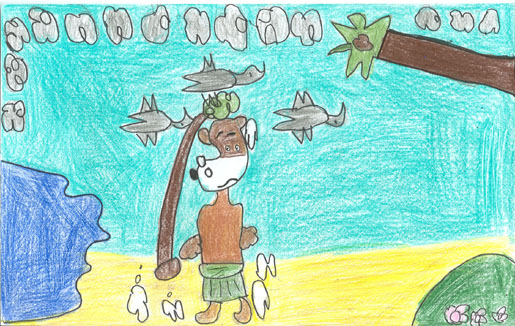 If you enjoy adventures, you should read Shipwreck on the Pirate Islands by Geronimo Stilton. Thea, Geronimo's sister, convinces him to go on a vacation to the Pirate Islands. Geronimo got stuck on one island while he was trying to go to the island called Loot Island in a little plane. They crashed into the ocean and had to swim to the closest island. While Geronimo was trying to get off that island he kept on getting hurt. If you want to know if Geronimo got off the island you should read this book.
I think it was funny when Geronimo wasn't trying to get hurt but then he got hurt. The first time he got hurt was by coconuts falling on his head. Then some birds attacked him. Finally, giant crabs tried to eat his toes! I think I am a lot like Geronimo because we both like to go on adventures. I know that because Geronimo goes on adventures in all his books. I wish I could go on some adventures, too! In some ways I am not like Geronimo. I am not like Geronimo because I don't get hurt all the time. And of course, I'm not a mouse.
I recommend this book to kids who enjoy adventures. I think this book is for second grade and up because first graders and lower won't understand it. I also think this book is good for girls and boys.