Canterwood Crest, Take the Reins
Written by Jessica Burkhart
Reviewed by Julia D. (age 8)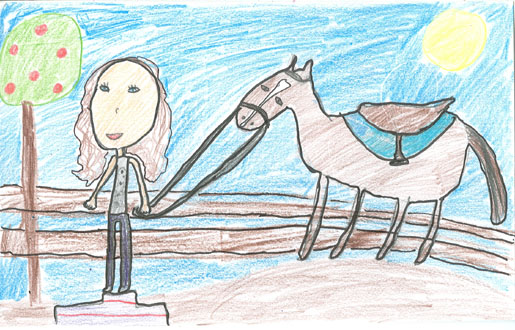 Sasha Sliver and her horse Charm arrive at Canterwood Crest, a riding academy. Sasha's hoping to make the advanced team by the end of her first semester, but there are only five spots and a lot of girls. One girl on the intermediate team, the team Sasha got on, is used to being the best and prettiest on the team. When Sasha shows her skills the girl's claws come out. Will Sasha make the advanced team by the end of the semester? Or will the pressure send Sasha packing? Read this book to find out.
I really liked this book. My favorite part is when Sasha makes the intermediate team because it was exciting and thrilling. Heather, the mean girl, went from being mean at the beginning mean, to being nice at the end. She's nice because they're both on the intermediate team and she realized she needs to be nice or they won't be a team. I felt like Sasha throughout the book. Sasha is a great rider and so am I. Sasha's competitive, so am I.
I recommend this book to people who like horses or horseback riding. I also recommend this book to 8 or older girls. I don't think boys would like this book because it is about girl friendship. Also, I think people who like adventures would like this book.