Funny Frank
Written by Dick King-Smith
Illustrated by John Eastwood
Reviewed by Danny M. (age 8)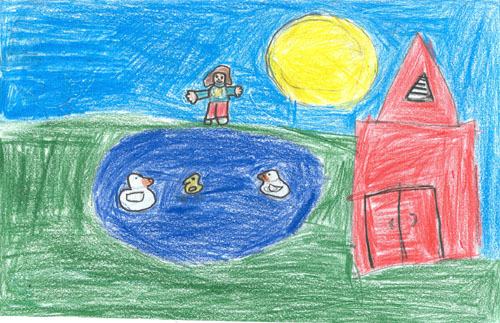 Frank is a chicken that likes water, but can't swim because he doesn't have that kind of body. He always tries to swim in the pond and almost drowns, but Jemima was there to save him. Jemima made him a wet suit so he would not drown, instead he would float in the water. Will Frank ever be like the other chickens? Read the book to find out.
My opinion about the book Funny Frank is that the mom and Jemima were very clever. Making the wet suit was very clever of them because it saved Frank's life. I like the way the illustrator made the illustrations. One thing I like is the way Frank grows bigger over the years. Another thing I like is the way he makes the people realistic. Frank is like me because Frank and I both like to swim with our friends. But I'm a human so I can swim and I'm supposed to. A chicken like Frank isn't supposed to swim.
I recommend this book to people who are in second grade to fourth grade. This book might make you laugh when you read it. Most people will like the book, both boys and girls.