Smile
Written by Raina Telgemeier
Illustrated by Stephanie Yue
Reviewed by Olivia S. (age 9)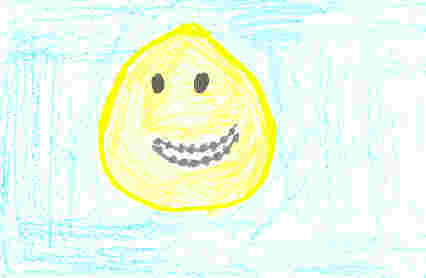 Have you ever knocked out your two front teeth? Well Raina did and to hear about her story you should read Smile by Raina Telgemeier.
To begin with, this book is about 4 ½ years of treatments to fix Raina teeth. In the beginning of the story Raina knocks out her front tooth, and pushes her other front tooth up into her gums. This book involves Raina's 5th, 6th, 7th, 8th, and 9th grade years. She goes from having braces, to having head gear, to having fake teeth connected to a retainer, then back to braces! Raina is embarrassed to have all these things in her mouth. At least she only wears head gear at night!
In addition, I liked reading this book because I enjoy reading graphic novels. Graphic novels are like comic books but they are longer and have chapters. The book is very detailed because it is like the story comes alive since the people are basically telling the story with speech bubbles. The pictures are great and some parts are hilarious! My favorite part was when Raina and her friend were passing notes and the teacher caught them. Then the teacher read the notes out loud!
In conclusion, this book is great for girls and boys ages 9-14. Also it is a great book to read for fun. You should find it at your library today.