Bunnicula
Written by Deborah and James Howe
Illustrated by Alan Danieil
Reviewed by Noah S. (age 9)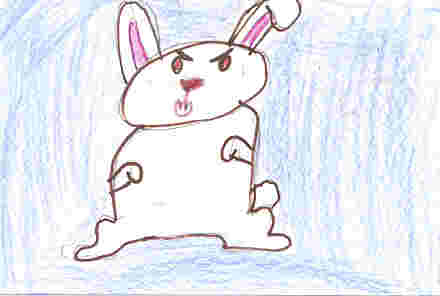 Do you have bunny named Bunnicula? Probably not, but if you want to learn about a bunny with fangs that sucks the life out of vegetables, you should read Bunnicula by James Howe.
To begin with, this story is about Harold, Chester and Howie living with their family, the Monroes. (Harold is a dog and so is Howie, Chester is a cat but they get along surprisingly well.) The animals can communicate and talk to each other. Bunnicula was found in a movie theater and combined Dracula (the movie playing) with Bunny and got Bunnicula.
In addition, I enjoyed this book because it was funny and involved fascinating events. During the story Bunnicula is trapped in a movie theater that is about to be torn down by a wrecking ball. This was fascinating because I know the characters would have been very nervous. Also, Howie reads a series of books called "Flesh Crawlers" and he is constantly talking about them. This is what was so funny because he can't stop! Throughout the book Harold gets sick of him talking about them but he does not mention it. Finally, I really liked that this book has a surpise ending. Everyone thinks Bunnicula is still sucking the vegetables, but the reader finds out the real truth!
In conclusion, this book is perfect for boys ages nine to twelve. Go check it out at your public library today! (if it's there)