The Fast and The Furriest
Written by Andy Behrens
Reviewed by Noelle M. (age 8)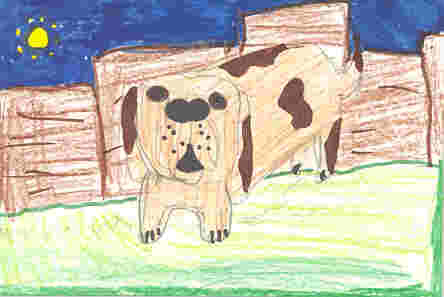 "Woof! Woof!" Come join Cromwell and Kevin in The Fast and the Furriest, by Andy Behrens.
To begin with, Kevin and his dog Cromwell are both couch potatoes. That all was changed when Cromwell saw a dog agility contest on Animal Planet, and got crazy for exercise. When Kevin's dad saw him and Cromwell working out, he wanted to get Kevin into football camp. When Kevin got there, he accidentally slipped and crashed into Bradley junior. He said he did it on purpose so he could get kicked out of camp, and that is exactly what happened.
In addition, my favorite part of this book was when Cromwell was running around the basement and crashed into the mini fridge. This caused it to fall over and break Kevin's dad's Mike Ditka collector plates. Kevin had to clean it all up because Cromwell could not do it. While reading Kevin's complaints, I could not stop laughing! This was my favorite part because Kevin got blamed for it but it wasn't even his fault and even though he kept complaining, no one would believe him. It was really funny! I also liked this book because it had human and animal characters. This made the book more fun to read. Another reason this book was book was one of my favorites is because it is a Florida Sunshine State Reader book!
In conclusion, this books is perfect for kids ages 8 and up. If you like motivational comedies then weave your way through the library and find The Fast and the Furriest!