Gnome invasion
Written by Elieen Cook
Reviewed by Divya K. (age 9)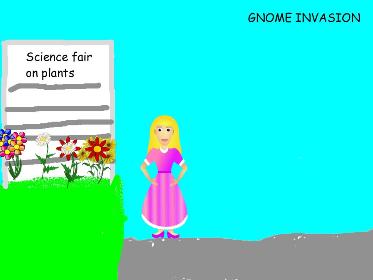 Willow Doyle, young fairy in training godmother, has finally found her stride at Riverside Elementary School. This school is for humans only! But she finds out that she is actually part human and part fairy, so no one believes the following things about her. They don't believe she gets her powers. No one except her family, Katie,her dog and her grandparents believe that she is part fairy. Imagine a garden gnome and your sister make a mess of your science fair project and then cast a spell that changes your project into a mini jungle on a board and table. Well that is what happened to Willow's science project and the judges think it was her! Read this book to find out how Willow fixes her problems.
My favorite part was when Willow casts a spell on Bethany causing her to hiccup in front of her crush. I loved this book because it talked about magic and it was funny. This book is part of a series. It is similar because it has the same chararcters and it is different because it has different problems.
I highly recommend this book to 4th graders who like funny and magical books.