Edgar Allen Crime Investigations Notebook
Written by Mary Amato
Reviewed by Will M. (age 8)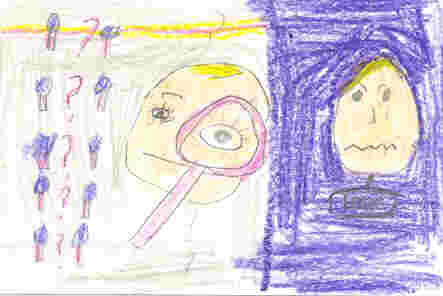 Do you have a hobby for reading mystery books? If you like them, Edgar Allen Crime Investigations Notebook is the book to read by Mary Amato.
To begin with, this book is about a kid named Edgar that loves to solve mysteries. He has one problem - Patrick wants to solve it first. In this book, Edgar and Patrick are a great competition to solve the mystery. They work and work but don't find anything at first. Then, when the teacher in the book reads out loud a poem, It Is a Gift, Edgar figured out that goldfish means the G in gift. Maybe, the their will steal something with I next!
In addition, I enjoyed this book because I solved a mystery once so Edgar reminds me of myself. I had found a ring and it turned out to be my neighbor's wedding ring. They were very pleased. Also, I enjoyed this book because the characters failed finding the right suspect for a long time. I loved when they failed many times finding clues and they could not find the guilty proven suspect. They just found out what the letter G stands for. This makes the book even more exciting and mysterious!
In conclusion, if you love a good mystery book GO CHECK IT OUT NOW!!!! I recommend that you should buy it for all kids ages 6-12.