Super Diaper Baby 2 And The Attack Of The Potty Snatchers
Written by Dave Pilkey
Reviewed by Skyler R. (age 9)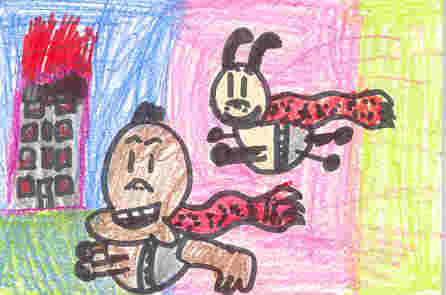 Do you like super hero comics? Then read Super Diaper Baby 2 by Dav Pilkey. It's amazing!
To begin with, this story was about a super hero baby that has a family and a dog named Diaper Dog. At the beginning they go on a picnic. Soon, evil Dr. Dinkle and his pet cat were taking everyone's toilets and robbing banks. One funny part was when Dr. Dinkles pet cat drank Dr. Dinkle and peed him out!!! Then Dr. Dinkle was mad at his pet cat for making him into pee, and no one is letting him spend his money. Now he smells gross!
In addition, I enjoyed this book because it has lots of funny parts like toilets, pee, diapers, and cool stuff like fighting, super heroes, robots, big cities and more. I also like how it has a happy ending, but I won't tell you what that is! I especially enjoy how it's a comic chapter book. The sound effects that are in the comic bubbles really make the story come alive.
In conclusion, this book is perfect for families and kids in elementary schools. Check it out at the library now...it is a book I think you will like and laugh at!!!