Dear Dumb Diary Year Two School Hasn't This Gone On Long Enough?
Written by Jim Benton
Reviewed by Jennifer R. (age 9)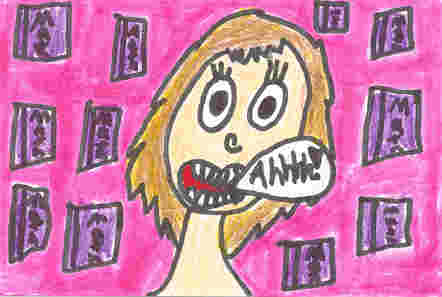 Do you want more Jamie Kelly? If you do you should read Dear Dumb Diary Year Two: School Hasn't This Gone On Long Enough? by Jim Benton. It is the best one yet.
To begin with, this story is about Jamie having problems in math and springy Isabella helping her get higher grades. On the first page she talks about a guy named Mark in her math story problem. She always pretends like Mark is a real person. Eventually she thanks Isabella for trying to help her get higher grades in math.
In addition I enjoy this story because at the end there is a big surprise. I also love Stinket, Jamie's dog. She so cute. I remember when I was in first grade, me and my sister used to find lost dogs all the time. One came to our bus stop and we saw a police car nearby so we took the dog to it. This shows how much I like dogs, just like Jamie likes her dog Stinket.
In conclusion, this story is perfect for girls between eight and twelve I think you'll think it's awesome if you read it. So go check it out today!!!!!!!!!!!!!!!!!!