The Trouble With Chickens
Written by Doreen Cronin
Illustrated by Kevin Cornell
Reviewed by Kevin R. (age 9)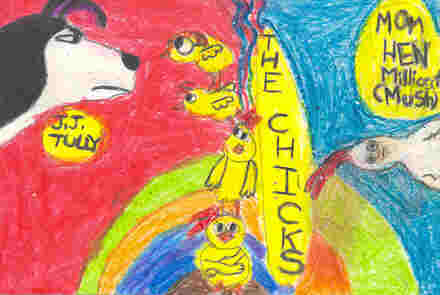 If you like reading funny search and rescue stories where a dog is the one who searches and rescues, then you should read the book The Trouble With Chickens by Doreen Cronin.
To begin with, it's hilarious! It is about a retired search and rescue dog named Jonathan Joseph Tully (J.J. for short). He is just taking a nap when a hen named Millicent comes inside the doghouse and wakes him up and suddenly starts telling him about her problems. Boy, did she have problems! But the most important problem is she is two of her chicks are missing! And it's his job to find them.
In addition, my favorite part is when he starts calling Millicent, you guessed it, Mush! He starts calling her that because first of all it is easier to pronounce, and second of all, he knows it annoys her. I liked this part because it is so funny that he says it just to annoy her. After a day or two, Mush kept bouncing on her left foot but J.J. thinks she is just nervous about her two precious chicks. Then when J.J. finds the missing chicks his arch enemy traps him! It was a trap! This was another favorite part of mine because it was so suprising. I had no idea that was going to happen. This is a great book because it is mysterious because a new mystery comes about every few pages. That makes a book much more fun to read!
In conclusion, if you're a kid 5-12 years of age, want to know if he escapes and want to know who is his arch enemy, then go to the library and check this book out! You will be glad you did.